Let's go with one of our most classic dishes: delicious Cebiche.
What can we peruvians say about cebiche that you haven't heard already? That we love it, that (for us) ours is the best, that no lemon compares to ours, our fish, our land, our climate… our chillis or "ajíes" and our people.
Spain has to be thanked indeed. Without the lemon seed they brought that grew in our land with its unique properties, and without onions cebiche would not exist. or ceviche. or seviche.
The thing is, yesterday (even though this pictures and recipe were taken a few weeks ago when I invited friends home for cebiche) my great friend Diego Salazar (a great gastronomy journalist and passionate about food and cooking) and me taught a cebiche course to a group of american students here in Madrid. It was, undoubtedly, the best excuse for me to wake up early and start preparing and cooking the sweet potatoes, peruvian corn, andean popcorn (canchita serrana), pack up knives and bowls, go to market, buy some fish, lemon (some peruvian I still had, which was great), onion, chillis (ajíes), ginger root, coriander and go to the course.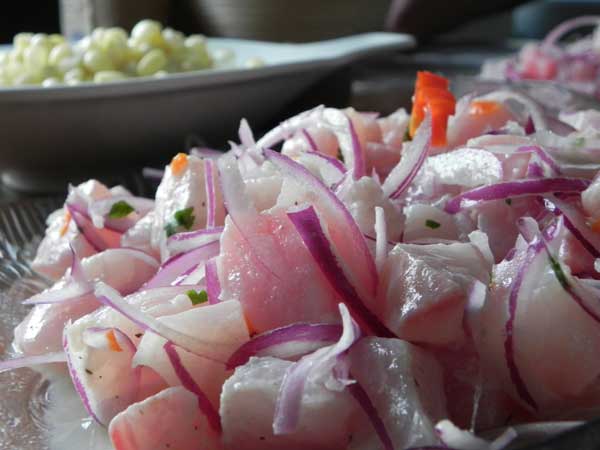 Cebiche in Perú, and for us peruvians abroad, matches perfectly with sunlight, friends and very cold beer. So now that the sun is coming out there is no better reason to have it. And now that in Lima the sun is fading out, no better way to say good-bye.