The 14th of October 2010, Nikkei225 opened its doors. Only 4 months later, it was awarded with the "Revelation Restaurant" of Madrid and received a mention as "Restaurant of the year". It has been the only restaurant awarded with an "M" from the Metropolis Guide on 2011 and, also receives a "Sun" from the Repsol Guide. It was also voted and awarded by theaudience at the awards from "Salsa de Chiles" (blog from ABC – Newspaper) in the category of "Best Restaurant of Foreign Cuisine". GQ Magazine places Nikkei225 at the position 24 out of 50 in Spains 50 best restaurants, and Gentleman Magazine ranks Nikkei at the top 50 of Spain, with no preference or order in between the others. And believe me when I say that this has only started.


Nikkei225, whose name represents the fusion between two cultures: peruvian and japanese, is made up by a team of 22 people, leaded by two partners and friends: Chef Luis Arévalo and Somellier Lai Rueda. A perfect team.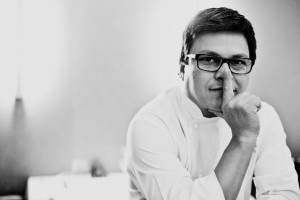 Luis is peruvian like me, from the city of Iquitos. He decided to leave his agronomy studies and attempts to continue with administration, and started his own quest many years ago at Sushi iito, in Lima. He started serving drinks at the bar and once in a while, when a cook was missing or there were many customers, his boss asked him to to work at the sushi bar. That's when his career and experience in japanese cuisine begun. From Lima to Chile, from Chile to Europe. Finally, he ends up in Madrid, where after big efforts he starts working in Restaurant Kabuki's kitchen. And he meets Lai, whom he describes as being someone "very observer and quiet" – the first sensations he had of his future partner in Nikkei225.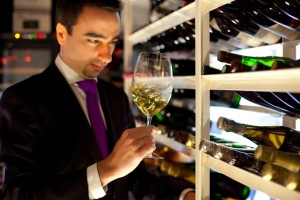 Lai Rueda, born in Spain, 27 years old, had his first taste of wine at 8. Lai has had a constant presence of gastronomy in his family and surroundings since he was very young and he always knew that he'd turn up the same way. He started working with 16, and arrives to Madrid at 18 searching for more opportunities. After many years of hard work and learning, he ends up working at Restaurant Chaflán, his first experience with a Michelin star restaurant and his first glance of what he really wanted. Finally, he ends up at Kabuki, where he stays four years, during which he decides to start to study for Sumillier during his free time. CIt's at Kabuki where Lai meets Luis, and end up working together at 99 Sushi Bar (Madrid). The opportunity of opening something of their own comes up, and that's when Nikkei225 is born.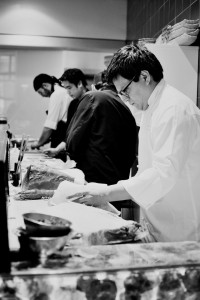 The place has a clean and cozy decoration. Service is very careful and the kitchen: flawless. The most delicious and accurate peruvian-japanese fusion I've tasted. I believe the Luis Arévalo's cuisine in Lima would deserve all the awards, reason why last year he was invited to talk at Latinoamerica's most important gastronomic event, Mistura 2011, to talk about his food and philosophy, something that touched Luis greatly. The butter fish niguiri, vieiras with pisco bloody mary, an excellent tuna tartar, the crab, bacalo, the chupe, and of course desserts. Lai recomends foamy wines or strong white wines, with personality such as Rieslings or french champaignes. The restaurant offers more than 300 different wines from all over the world. 
Nikkei225 is the first thing I recomen to people that want to enjoy of a kitchen with new and different tastes with a peruvian touch. For weekends, make an advance reservation, and even during week days.  Don't miss it!! For me, the besta japanese-peruvian fusion restaurant is in Madrid. I leave you the information and pictures of some plates that make our mouth water.

Castellana 15, Madrid
Telf. 913 190 390
info@nikkei225.es