A few days ago The World's 50 Best Restaurants awarded Noma as the best restaurant in the world. Second place was to El Celler de Can Roca of Joan, Josep and Jordi Roca. I'm going to write today about my visit to Barcelona a couple of weeks ago, specifically a Wednesday where I tried over 40 different flavors paired with the best wines.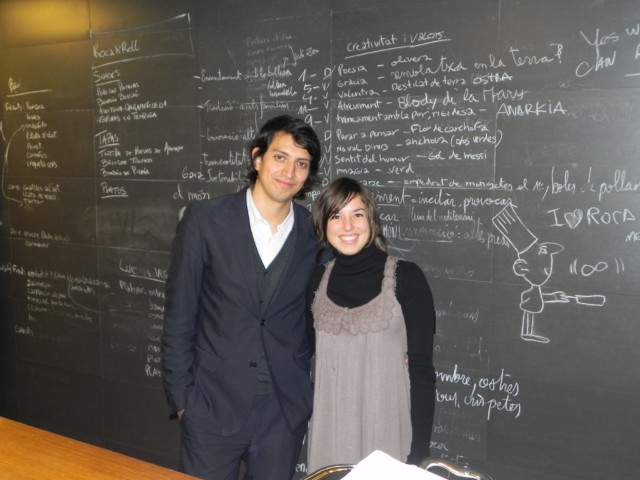 The day started in Girona, where my friend Diego and I had lunch at El Celler de Can Roca. I couldn't believe my eyes when, before we sat to eat, we where talking to Joan Roca who kindly received us for a chat. All of this thanks to Diego of course, who gave  me the  opportunity to live this unique experience and that will repeat itself in the future, hopefully.
I didn't take any pictures at the Celler. Not of the dishes. They will remain in my memory. However I must let you know that if you enjoy eating and want to live an amazing gastronomic experience you must make your reservation now. An olive bonsai to the table with caramelized olives filled with anchovies cream, truffled brioche with escudella broth, cod fish in perfection, delicious and soft "cochinillo", the Palamós shrimp, the vainille in various textures, the wines, the stellar atention. The three brothers united achieve as Jaume Coll says in its book: "…a fantastic symphony executed with rigor and accuracy with three soloists, the first violin, viola and cello…"
…and from almost paradise we moved back to Barcelona for dinner. Tickets Bar. Albert Adrià's new tapas' bar located next to the Ferran's cocktail bar 41º.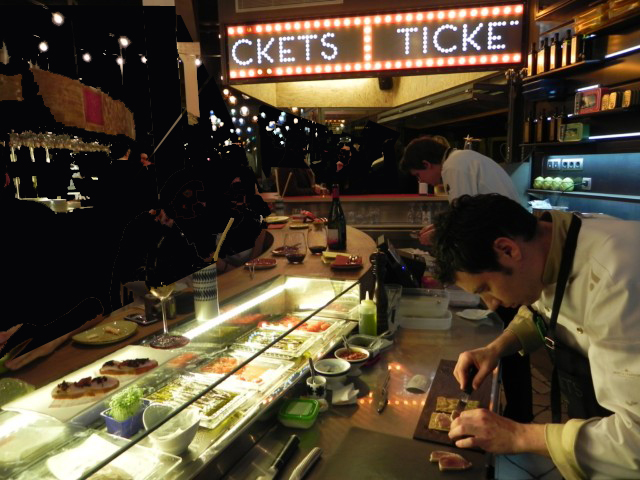 Tickets is a place like no other, with an energic arquitecture, incessant, relentlessly, in a constant movement that is consistent with the team's energy. A team of many that are delighted in our delight. A team that is in charge of transmitting the knowledge and history of how that flavor was created pointing out why, and what makes it special. Tickets has manys bars each with a purpose, showing some of Barcelona's features and of the Mediterranean food dishes. All this accomplishes that the taste of that bite receives what it needs for our senses to get excited and for our brain to magnify and highlight what is meant to be magnified and highlighted.
So yes, there, in Tickets we met for dinner with Daniel Patterson chef of Coi, his wife Alexandra and baby daughter, Harold McGee (McGee on Food and Cooking: An Encyclopedia of Kitchen Science, History and Culture), his son Harold (a scientist like me) Diego and Me. Carles Tejedor chef from the Restaurante Via Veneto came by for coffee, Ferran Adrià came by to say hi. Albert with a dedication and complete attention to us, making sure we enjoyed and understood the whole essence of this great concept. What made this evening even more special to me was that my cousin is part of this great Tickets' team, and was part of all this amazing energy that night.
We switched from the bonsai olive tree to spherified olives, to spiced tomato tartare, oysters, air baguette xuxis with Joselito's ham, rabbit seeds with sparking garlic mayonnaise, avocado with mint mojo and sea urchins, and many many more tapas. I won't say no more. A picture is worth more than 1000 words so I leave them here for your delight, Wednesday's and Friday's (I went backon Friday, yes). I leave you the blog's gallery and more pictures here in my Flickr.